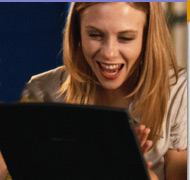 An online in-depth interview (IDI) offers a variety of options to meet your research objectives.
Typically conducted with one pre-screened and invited research participant, IDIs are conducted in real-time for a set duration. Either one-on-one with a moderator and a single participant, or with 2 or 3 participants (called a dyad or triad, respectively).
At their simplest, audio IDIs are done via telephone or online using VOIP. When the moderator and participant(s) need to be viewing the same monitor, a screen-sharing platform is added. Webcams can be incorporated to allow the moderator's face and/or participant faces to be visible. Webcam IDIs are helpful when a respondent's immediate facial expression is critical to ascertain, or if participants being able to show items to the camera in real time adds value to the study.
See also
Virtual Focus Facilities – Platforms + Apps
Webcam Interviews + Focus Groups

Reliable, Trouble-Free Research Platforms