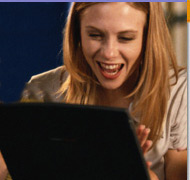 Online in-depth interviews (IDIs) offer a variety of options to meet your research objectives.
Typically among no more than 3 research participants at a time, IDIs are conducted in real-time for a set duration. Either one-on-one with a moderator and a single participant, or with 2 or 3 participants (called a dyad or triad, respectively).
At their simplest, audio IDIs are done via telephone or online using VOIP. When the moderator and participant(s) need to be viewing the same monitor, a screen-sharing platform is added. Webcams can be incorporated to allow the moderator's face and/or participant faces to be visible.  Webcam IDIs are helpful when a respondent's immediate facial expression is critical to ascertain, or if participants being able to show items to the camera in real time adds value to the study.
Reliable, Trouble-Free Platforms