Today's consumer is choosing to travel light and keep their access devices within arms reach at all times.  According to the Pew Research Center, approximately 2/3 of US adults use their mobile phones to access the internet and one in three (34%) go online mostly using their cell phones. This statistic is even higher among Millennial, Hispanic and African American population segments. Mobile internet access is on the move.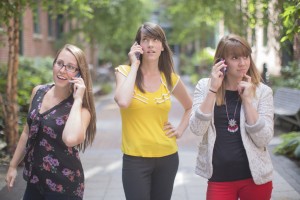 While businesses may be hanging on to their computer infrastructure, consumers have clearly settled into their communication comfort zone. At quitting time, even business folks who are wired to their walls at work are grabbing their mobile devices and heading out the door.
Unless (until?) a better option comes along, people are opting to travel light and keep their devices close at hand.  For a growing many, mobile-ready with full featured apps are eliminating the need for a desktop computer.  It's no wonder tablets, phablets, and smartphones are in such high demand.